Now you can take your little puppy with you on a trip without worrying about his safety
*suitable for dogs up to 13 lbs/6 kgs*
StarSeat™ lets your dog experience the road with a smile! Our comfy Pet Car Armrest Seat creates a safe place where your dog can lie comfortably while you drive undisturbed! We know that safety is your first priority when it comes to taking your fur babies for a ride, especially when your friend is a little guy.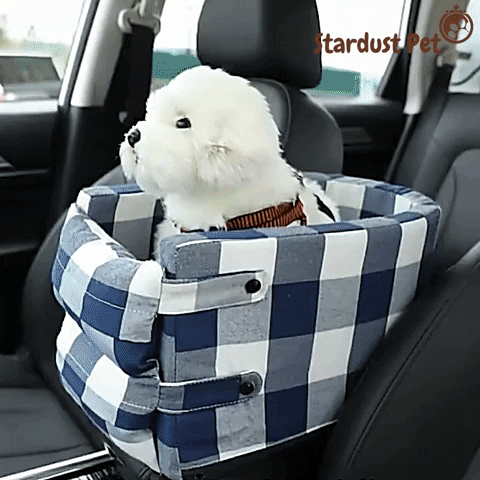 Why your pet should travel in a special seat made especially for him?
Roughly 40% of pets will suffer from anxiety at some stage. Inadequate comfortable in the state while driving can lead to all kinds of physical and mental health problems for pets. Have them Car Armrest Seat next to you and let them feel more secure than ever before.
Moreover, you can prevent your pet in the car from moving around, wanting to play with you, and jumping around.
You can prevent all of the above with StarSeat™ - Pet Car Armrest Seat!
✓ Maximum safety and stability
Thanks to the attachment of the seat to the armrest, the built-in leash that can be attached to your pet's collar, and the zipper surrounding the closed structure of the seat, your pet is fully secured
✓ Save time on quick and easy attachment 
The seat is easily attached to the armrest thanks to two Velcro fasteners. The size is universal, so they can easily fit into almost any car
✓ Always by your side
Keeping your pet close to you gives him the security and warmth he needs. This effectively eliminates fear and allows you to travel in peace
SIZE GUIDE
The size of the product is 8.7" x 16.5" x 7.9" (22 cm x 42 cm x 20 cm).
Suitable for small kittens and puppies.
 SUITABLE FOR CATS AND DOGS
WEIGHT: UP TO 13 LBS (6 KGS)
LENGTH: UP TO 13" (33 CM)